Kentucky Lock - Various Diving Services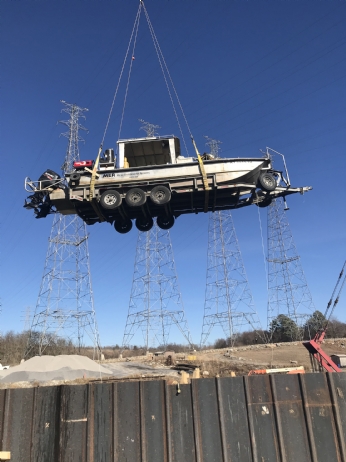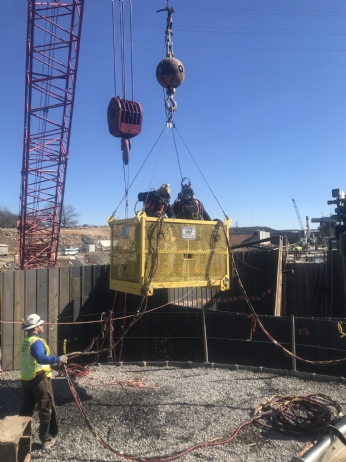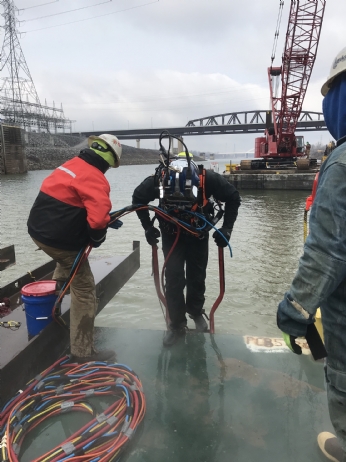 After nearly four years of serving as the diving subcontractor to Johnson Bros. Corporation during the construction of the downstream cofferdam for the Kentucky Lock Expansion project, the project came to an end in May. As the gateway from the Ohio River to more than 700 miles of navigable water in the Tennessee River, Kentucky Lock experiences a high volume of tow traffic, which required coordination in planning safe diving operations.
This US Army Corps of Engineers - Nashville District project involved an extensive amount of diving services in support of the cofferdam construction. The dive crew assisting in a significant amount of substrate preparations including inspecting the proposed monolith foundation area for clearances and substrate; hand jetting and dredging sediment using a 6" diver-operated Venturi dredge; bedrock removal using hydraulic splitters, saw cutting and breakers; hand-placing debris and rock into skip boxes for removal; and tremie-placed dental concrete.
The project construction consisted of concrete monoliths placed by a floating gantry crane from the existing bull nose to the downstream end of the cofferdam. The monoliths acted as a portion of the cofferdam which will be the new lock wall when construction of the lock is complete during a later phase of the overall project. The divers surveyed and prepared the monolith spud foundations by constructing and placing form boxes and pouring grout pads at the spud locations; wrapping spuds with sealing materials prior to concrete pouring; dropping curtain fabric and placing super-sacks filled with sand to fill the voids from the bottom of the monolith to river bottom to contain the tremie seal; and installing brackets and post-tensioning rods underwater. Once the pour was complete at each monolith, the crew removed the sandbags and curtain at the downstream end prior to placement of the next monolith and removed overpour where required. At the tie-in from the new monolith wall to the existing bullnose, the divers used a drilling template and hydraulic hammer drill to set epoxy dowels.
After the concrete monolith portion of the wall was complete, the continued support in the construction of the cellular cofferdam. Work included assistance with driving, placing, and burning sheet piles and inspecting the sheet pile interlocks. Upon completion of the cofferdam, the project wrapped up with inspecting and removing the remaining concrete overpour and sandbags.
Construction activities at the Kentucky Lock in conjunction with the new lock addition began in 1998. Mainstream also performed diving services for other project phases, include diving work for the construction of new two-lane bridge highway and a new railroad bridge; the construction of the upstream cofferdam; and environmental mitigation services which included nearly 54,000 individual mussels being relocated.
---