Woodlawn Intake Construction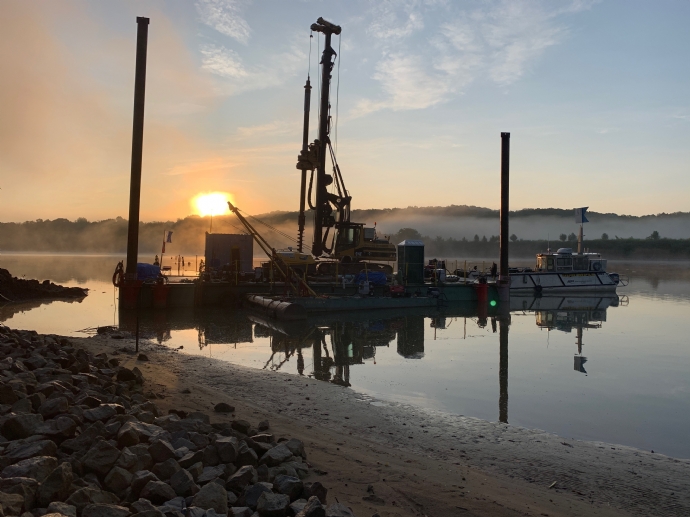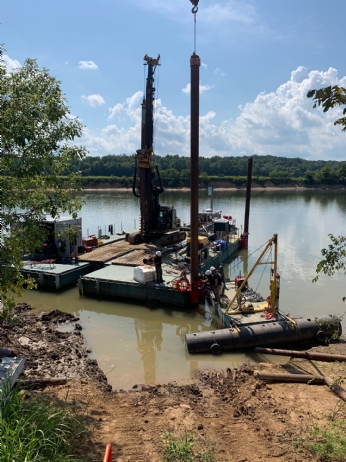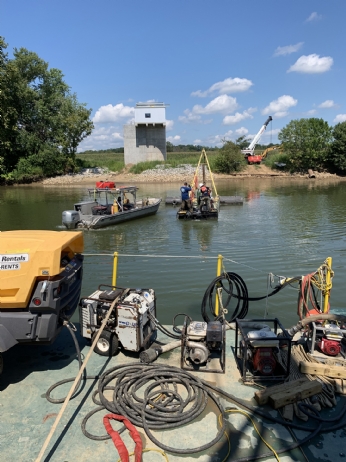 Mainstream Commercial Divers, Inc. was hired to provide a dive team for the construction of an intake in Clarksville, TN on the Cumberland River. While working off of a floating work platform, Mainstream personnel dredged and airlifted river sediment to excavate a bowl for the intake structure due to the intake structure's design requiring it to be placed below the riverbed elevation. The dive crew utilized a drill rig to drive 30' casings into the river bottom substrate until they hit bedrock. Once finished, the sediment was airlifted to clear all casings. Once the casings were clear of sediment, rock sockets were drilled into the bedrock approximately 4' while using a drill rig. Then the dive crew placed 8" micropiles into the rock socket. All piles were cut to elevation in the caisson of the mudline; and then with the utilization of a grout pump, grout was pumped to the top of the micropiles. A 30" intake line was then installed into the river connecting to the W-section intake support structure that was also connected to the micropiles. From the 30" pipe, they placed a manifold on the support structure which then held the intake screen. Divers placed a 3" airline to the bank that would supply the intake screens.
Proper elevations had to be obtained between the divers and the onsite survey crew on the riverbank for the USACE navigation permit requirements to ensure proper clearance for channel navigation.
---